The following is a recap of our June 2 Hardware Startup meetup on startup funding. If you would like to be notified of our next meetup, please join our page!
Kevin Hart, founder of Tzoa, got his start as an electrician and wanted a device that he could trust to warn him about the unseen dangers of the environments he worked in. He shared that his first source of funding was a line of credit from the bank, which he took out with the resolve that "if I don't do this now, I will regret it forever."
He recommends that you look southward to San Francisco when your company is ready, and warns against the risk-averse culture prevalent among investors in Vancouver. In SF, network quickly by joining an accelerator, attending events, and asking advice from friends who have travelled or work there before.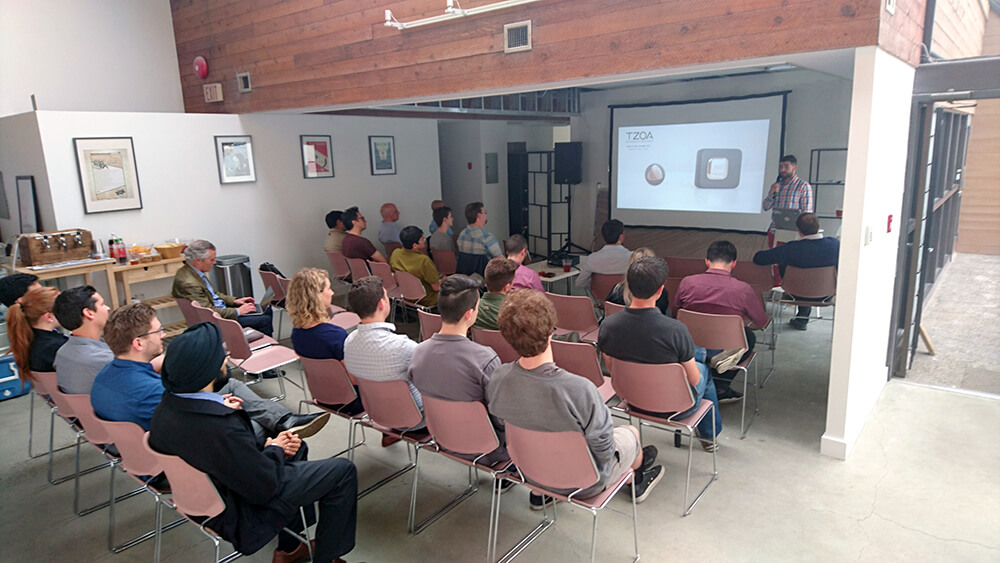 Kevin Hart speaks to meetup attendees about what it took for him to get his startup off the ground.
Kevin encourages people to get in front of investors before they may be ready to accept funding, to keep a keen eye for what the investor is seeking from your meeting, and to build your network as naturally and organically as you can.
He recommends three books:
… To make the best impression, ensure that you maintain good document hygiene.
Kirk Hamilton shared his perspective as an Angel Investor. He explains that, as an investor, he seeks opportunities that align with his own goals (for relationships, impact, innovation, or return), and that he strictly scrutinizes a company to ensure that he trusts them before making a commitment. He stresses that to make the best impression, ensure that you maintain good document hygiene (are your articles of incorporation up to date and in order?). Be ready to explain who is on your cap table – because the people who are involved with a venture matter a great deal.
Kirk also warns that you need to understand and closely monitor the main bet that you're placing by attempting to disrupt a market. Understand that market inside and out, have a clear plan for success, and keep your trade secrets secret.
-AM
Thanks to everyone who attended and our co-hosts Makerlabs! We look forward to seeing you at the next meetup.